Step-by-step Guide for a Title Page for a Research Paper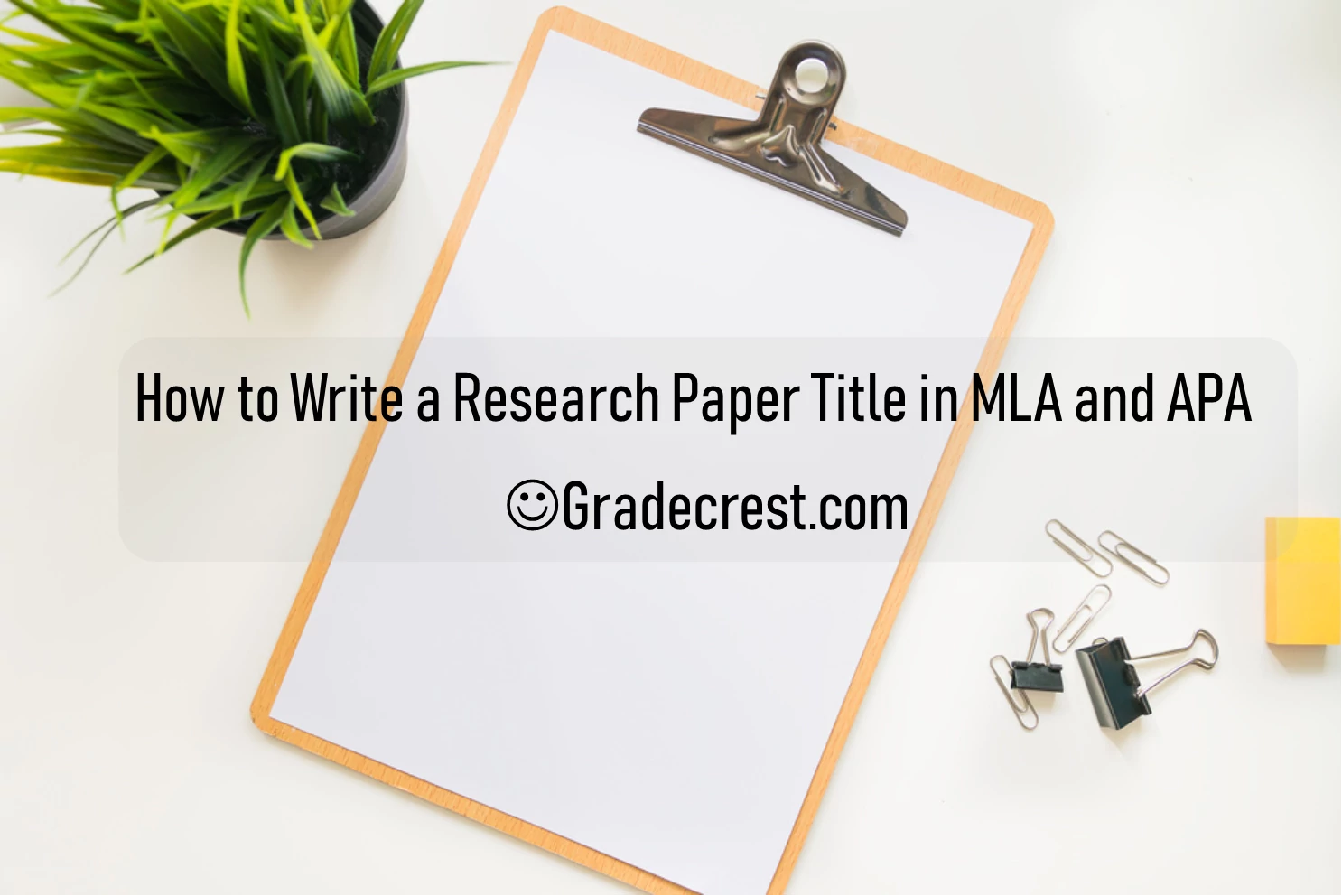 So you have finally done it; writing a research paper. However, just before you begin celebrating your triumph in writing a perfect research paper, the title page begs to be done before you break. Typically, the question of the research paper title comes before you even commence writing your research paper.
There are always two things about a research paper title page. One, it is the page that sets the first impression of your research paper. Thus, it can make the tutor or professor read it first or skip to the next one first. Secondly, the lack of it makes your papers look incomplete.
Any student should invest time and patience in making a presentable, standard, and professional research paper cover page. To say the least, you MUST learn how to format a title page of a research paper to grab the attention of your examiner, professor, or tutor.
Now, while making a title in APA, MLA, Harvard, or Chicago formatting might not be hard, trust us, some people find it otherwise.
In this article, our key focus is on how to make a perfect title page for research paper in MLA and APA formatting styles.
What is a Research Paper Title?
A well written and formatted research paper title page is the first page of your research paper. It bears your research paper title or topic. The title page gives a compressed overview of what to expect in the research paper.
The title page is always structured and formatted according to the citation and formatting style guidelines. For example, when writing a paper in APA, your first page- the research paper title page, must be formatted according to APA title page guidelines. The same applies to MLA, Harvard, and Chicago formats.
Your title page comprises of the running head, research paper topic, page number, student name and number, and student affiliation. During academic writing, you can structure your cover page in more than three standard styles: MLA, APA, and Chicago.
However, your research paper prompt or rubric will outline the instructions of the style to use. Research paper title pages are easy to format, structure, and edit. However, it would help if you had a guideline sometimes.
Format and Features of a Title Page
Now that we've defined it let us see the features and formats do we have for a title page of your research paper. If you aspire to score the highest possible grades in your research papers and improve GPA, include these into your research paper topic page:
The research paper topic;
Your name (the author's name);
Institutional Affiliation (high school, college, or university)
Year of submission (Can be the date)
Like we highlighted before, a title page gives a sneak peek into your work. But, the adage demands that we do not judge a book by its cover. Well, is that true in the academic world? Probably to a smaller extent.
You will need to format your research paper title correctly. So, to answer the question of how to write a title page for a research paper accurately, you need a step-by-step guide.
Step-by-Step Guide on How to Develop a Research Paper Title Page
Always write the research paper cover page first. However, take note of the respective formats.
Your title page should be center-aligned, written third way down the document, and must have your full credentials.
Ensure that the title is written in title case and that your official name is written.
Add your institution's name. The name should be written in full.
If the research paper was written by a group or co-authored, ensure that their different institutional affiliations come after the respective names of the authors/writers.
Include the name of the course and the course code. The date can always come afterward.
So now that you know the drill on how to make a title page for a research paper, what are some of the ground rules?
Rules on making the best Research Paper Title
Regardless of the formatting style, there are specific rules that you must keep in mind. For a well-written and excellent research paper title page:
Your title page should always be center-aligned.
The title page must be double-spaced unless the paper you are writing is single-spaced.
Maintain a 1-inch margin in all the sides of the paper as is the standard academic writing format.
Preferably, use either Times New Roman, font 12 or any font as per the research paper instructions.
Ensure your title page is correctly capitalized. When writing the names and topic, make sure you use capital letters where necessary. The conjunctions and pronouns can always take the lower case.
As is with writing the other pages of your research paper, the title page should be well-numbered as well.
The title of your research paper should be based on the research paper topic chosen and should be clear, catchy, and concise.
So then, let us have a look at the common examples of research paper titles.
APA Research Paper Title Page Guide
A title page for research paper APA format comprises of:
Running head plus Topic
The Research Paper Title
Personal Credentials
Page Number
An APA research paper title page has the research paper title halfway through the page. On the header, the APA title page features the Running head and the research paper topic or title. The title or topic should never be past 50 characters. It also entails the page number.
Consult with your research paper prompt on some of the details to include. Most professors or tutors will list what to add therein.
Research Paper Title Page APA Format Example
If your research paper title is about "The Impacts of Aviation Industry on Human and Arms Trafficking," here is what the title page for your research paper should look like.
Running head : AVIATION INDUSTRY AND HUMAN AND ARMS TRAFFICKING (plus the page number aligned to the right of the page)
Title : The Impacts of Aviation Industry on Human and Arms Trafficking
Student Name : Gavin Gray (center aligned)
Institutional Affiliation : New York University (Center-aligned)
Professor/Supervisor : Dr. Langston Wick (Center-aligned)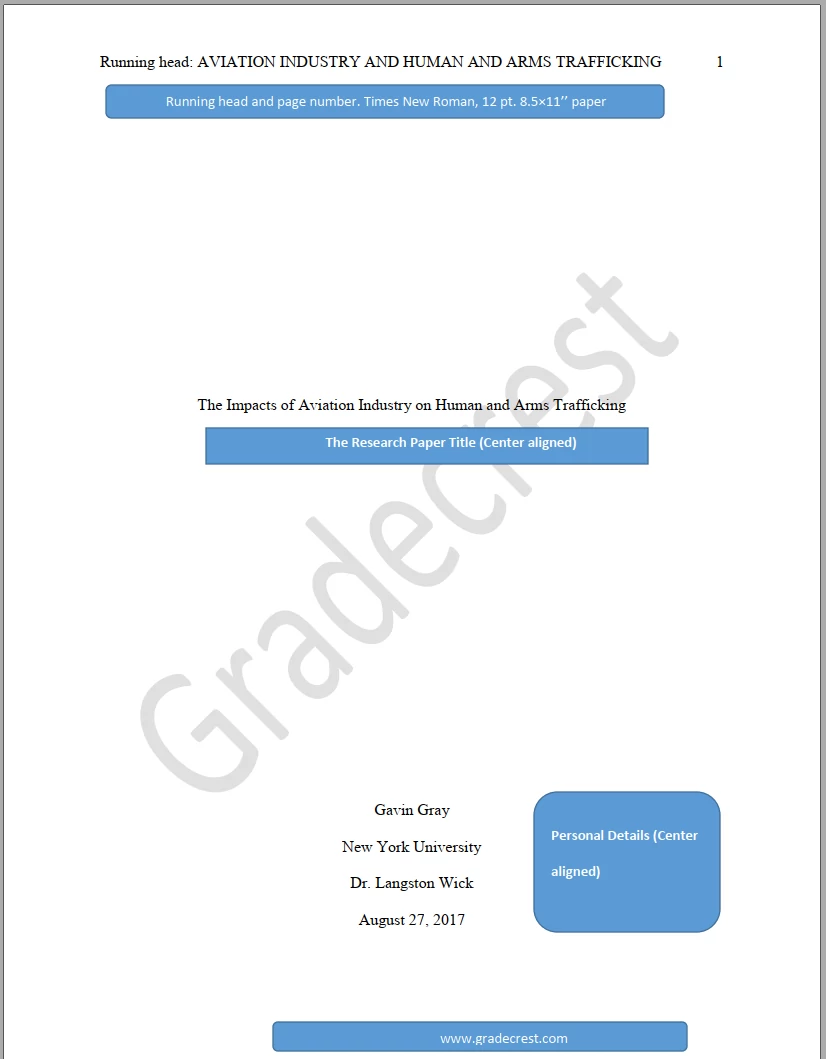 Research Paper Title Page MLA
This is for you if you are wondering how to make a title page in MLA research paper. Kindly note that MLA research paper title pages are rarely asked, which means you can format it like the normal essay cover page in MLA .
The Modern Language Association (MLA) mostly used in humanities and literature also has some standard requirements for a research paper title page. Here are the components:
Research paper topic/title.
Your name (author's Name).
Course/class.
Supervisor's/instructor's/Professor's Name.
Date of Submission.
Here is how to make a title page for a research paper, MLA formatting.
Use standard Times New Roman font, 12pt when undertaking MLA research paper writing.
The MLA research paper title comes a third down the page.
Write the title in title case except for the prepositions, conjunctions, and pronouns.
If the title of your research paper is a title or a published work, italicize
Skip 2-3 lines after the MLA research paper title and write your name
Again, skip 2-3 lines down and write the course/class
Write the name of your instructor, tutor, or professor.
Write the date of submission or the due date.
The Correct MLA Research Paper Title Page Example
If you are writing an MLA research paper on the topic: "The Causes and Consequences of Anorexia Nervosa among Adolescents," here is what the title page of your research paper should look like:
Title : The Causes and Consequences of Anorexia Nervosa among Adolescents
Student Name (2-3 lines down) : Gavin Gray
Course/Class Name (2-3 lines down) : Psychology 321
Instructor/Professor/Tutor : Dr. Rhodes McKenzie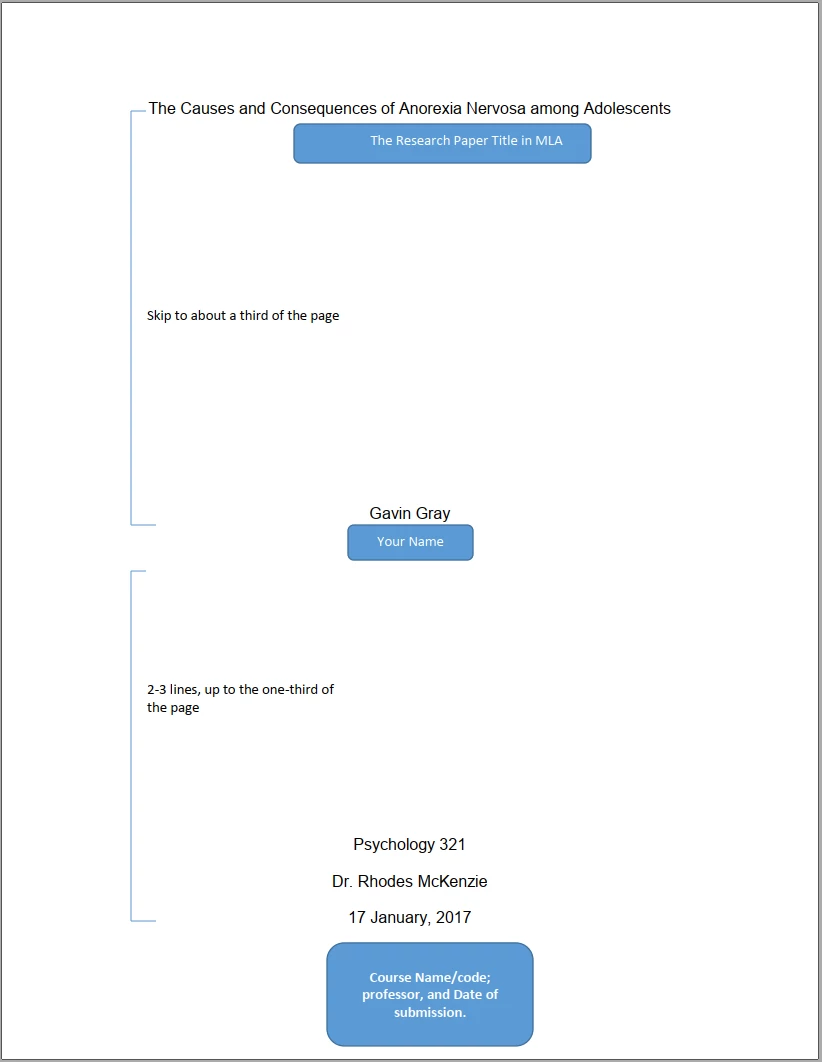 You can also have a look at the ASA title page components in our previous articles. We are sure you can learn a thing or two and implement in your research paper title page.
Parting Shot!
You can use these wonderful tips as a college or university student and craft a breathtaking title page. However, if you lack the time to do your research paper, our custom writing service can help.
Our research paper service follows a strict confidentiality and customer satisfaction policy. We have research paper writers with experience in extensive research and research paper writing. Trust us for both APA style formatting and MLA style research papers.
Our team of writers and experts assure you the value for every of your penny. Besides, we have a serious free revision policy that covers you in case the paper has omissions. Still. our quality assurance department is the best among websites that help students write research papers.
You can bring your research papers to us for evaluation, correction, and improvement as well. At an affordable and student-friendly price, get help from the best. We can help you make a title page and write your research paper too !

Gradecrest is a professional writing service that provides original model papers. We offer personalized services along with research materials for assistance purposes only. All the materials from our website should be used with proper references. See our Terms of Use Page for proper details.

researchpaper.PRO
Write your research paper like a PRO!
Research paper format
Research paper cover page/title page.
The title page needs to include 4 items:
The title of your paper. The title should concisely state the topic of the paper and the variables or theoretical issues that are being explored in relation to that topic. The title should be about 10-12 words long and should be centered in the middle of your page.
The author's name and institutional affiliation. The institutional affiliation is just the name of the place (usually a college or university) where the research was conducted. The author's name and institutional affiliation should be centered and placed directly below the title.
A running head. This is just an abbreviated version of your title, and should include no more than 50 characters (including spaces and punctuation). The running head is what appears at the top of each page next to the page number throughout the paper. The running head designation should be left justified and appear at the top of the page after the page number.
A page number. Page numbers should appear on the title page in the upper right hand corner, after the running head. Pages should then be numbered consecutively in the upper right hand corner throughout the paper.
Here is a sample title page in APA format. Note how it includes the running head and page number in the upper right hand corner, defines the running head that will title all manuscript pages, and centers the title and author information in the middle of the page.
Composing A Cover Page For An MLA Research Paper
Modern Language Association style (MLA) is designated for specifying the requirements for academic writing, such as formatting and use of English. Although many research papers are created according to the MLA style, this style usually does not provide for a cover page. All the necessary information is mentioned on the first page instead. Therefore, do not compose a cover page, unless there are some special requirements.
Nevertheless, sometimes instructors may require a separate cover page, as they consider it more professional. Usually instructors specify the requirements for the title page. However, the standardized MLA Format title page includes the following information:
University name.
Paper title.
Your class.
Professor's name.
You should format your cover page as follows:
Write the name of your university.
Write the title of your paper, skipping about one third of the page. Make sure, that the formatting is correct. The title should be written according to the title capitalization standards. Remember, that the first word of the title is always written in capital letters, despite the fact that it may be an article or a preposition. Keep in mind, that you should use punctuation rules as required. Do not underline, italicize your title and do not use quotation marks. However, punctuate citations as required.
Skip a couple of lines and write your name. Remember to write both your first and last names.
Skip another couple of lines and write your class, professor's name, and the due date on separate lines. Make sure, that you write names accurately. When writing your professor's title, remember to use the title as required. Write all the information about your course or class according to the instructions. According to the MLA format dates are usually written in European style. This means that you should write it in the following order: the day, the month, and the year.
Remember to double-space the title page and center all the lines. Use the same format for each line. Do not use any special formatting, such as underlining, highlighting, or italicizing.
If your research requires a cover page, don't forget that your first page will have special formatting. You are not supposed to mention all the information from the cover page there. However, the first page always contains the title of your work and your name. In addition, remember to write your name and page numbers on each page of the paper.
Related Posts
APA research paper format
Research paper template

Title Page Setup
A title page is required for all APA Style papers. There are both student and professional versions of the title page. Students should use the student version of the title page unless their instructor or institution has requested they use the professional version. APA provides a student title page guide (PDF, 199KB) to assist students in creating their title pages.
Student title page
The student title page includes the paper title, author names (the byline), author affiliation, course number and name for which the paper is being submitted, instructor name, assignment due date, and page number, as shown in this example.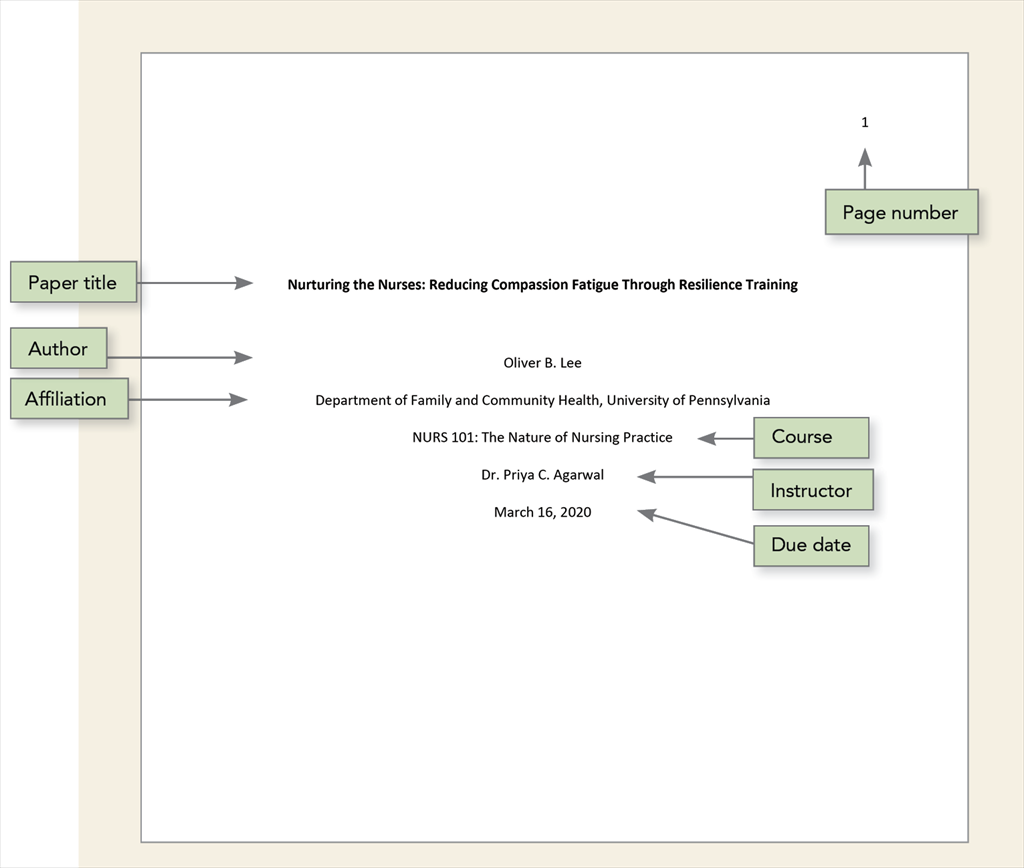 This guidance has been revised from the 6th edition.
Related handouts
Student Title Page Guide (PDF, 263KB)
Student Paper Setup Guide (PDF, 3MB)
Student papers do not include a running head unless requested by the instructor or institution.
Follow the guidelines described next to format each element of the student title page.
Professional title page
The professional title page includes the paper title, author names (the byline), author affiliation(s), author note, running head, and page number, as shown in the following example.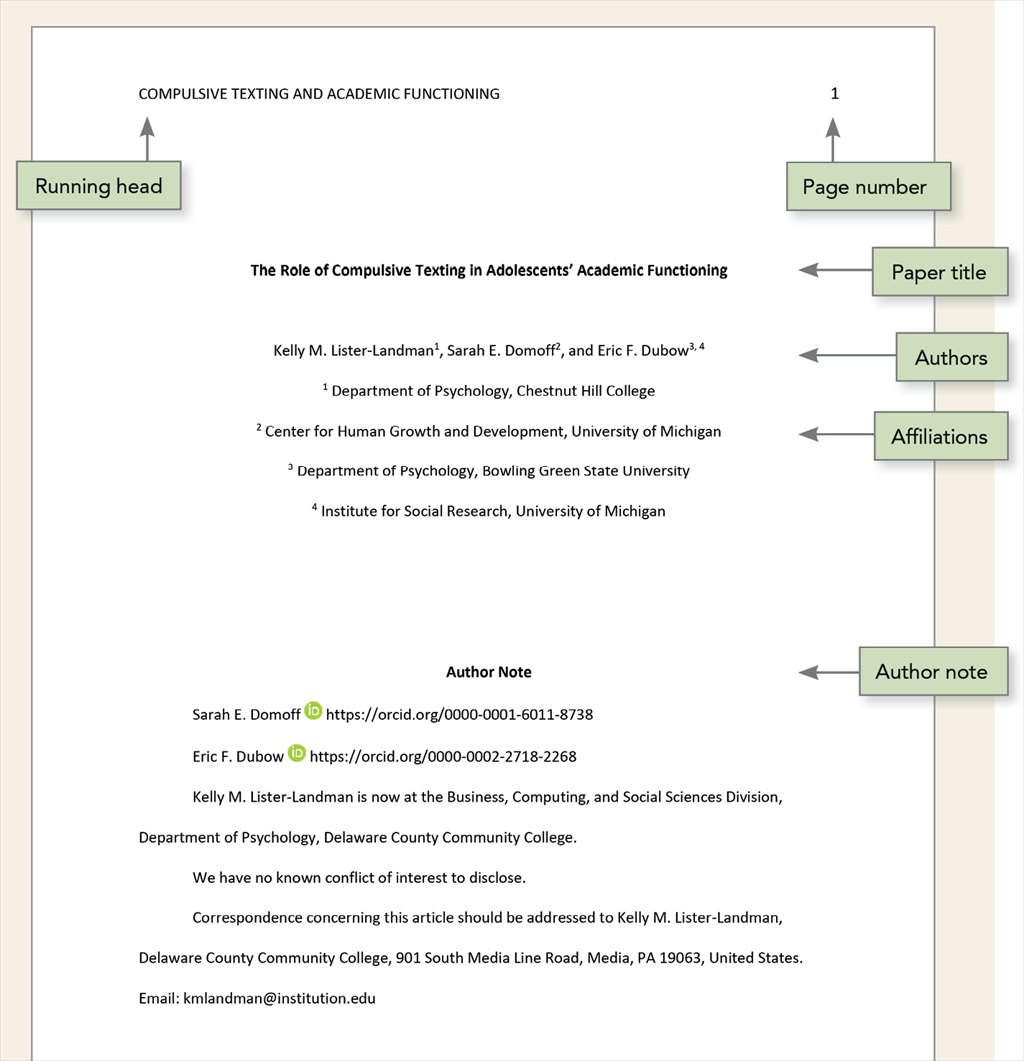 Follow the guidelines described next to format each element of the professional title page.
From the APA Style blog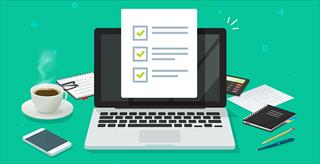 APA Style student papers webinar
A new APA Style webinar, "A Step-by-Step Guide for APA Style Student Papers," taking place on September 10, 2020, will provide detailed guidance on creating, formatting, and organizing APA Style student papers.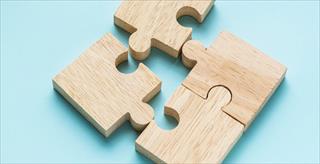 Who needs an author note? You … maybe
Professional papers intended for submission to a journal must always include an author note. Student papers do not typically include an author note.
Running head or no running head?
The new APA Style guidelines have separate instructions for students and professionals.
Writing the Title Page (Part 1)
The title page is the first page of your article, and therefore it is important to have a well-formatted title page that clearly represents your paper. This page should include all the information necessary for a reader to identify the contents of the article, its author(s), origin of the article, and the article type.
Although it is the first page of the manuscript, this section is usually written right at the end.
The title page contains all or a combination of the following elements.
Always (Part 1 – discussed in this post)
Article title
Author names
Author affiliations
Corresponding author information
Optional depending on Journal Guidelines (Part 2 – discussed in next post)
Headers – Running title, First Author name
Footnotes – Grant support, Conflict of Interest (Declaration of commercial interest), Authorship, Statement of author death
List of Abbreviations
Miscellaneous (Word count, article type)
You will find exactly what to include in the title page in the Instructions to Authors section of a journal's homepage. For example, according to the guidelines of American Journal of Botany , the following need to be included: Title, Author names, Author affiliations (See http://www.amjbot.org/misc/ifora.shtml#title)
Related: Wondering how to make your research stand out from the rest? Check out these tips now!
Article Title
The title is a major determinant of whether the manuscript will be read. It should draw the reader's attention and interest and make them want to continue reading. Usually, it is the only aspect of the article that appears in tables of content and in many of the databases used for literature searches.
The title should accurately, completely, and specifically indicate the focus of the paper, and should contain relevant "keywords."  The best way to structure you title is to look at your hypothesis and experimental variables.
For example
Structure: The Effects of [Independent Variable] on [Dependent Variable]
Example: Effect of cystatin C on NK and bactericidal activity
Titles can be of two types:
Descriptive (e.g., The effect of AB antibody on CD virus) stating the main focus of the study
Conclusive (e.g., AB antibody inhibits CD virus) stating the main conclusion of the study.
Titles should be preferably written as a phrase, but if necessary, it may be a declarative sentence or a question.
In some cases, a journal's Instructions to Authors will specify which style of title to use (e.g., descriptive or conclusive). The journal usually specifies the length (word/character count) and format of the titles (Title case, middle aligned, etc.) as well.
List of Don'ts
Avoid using dashes or periods to separate parts of a title.
Avoid using abbreviations in titles, since the non-standard abbreviations might be confusing to the readers not familiar to the subject.
If a drug name is mentioned in the title, the generic name should be used unless several proprietary versions of the drug are being compared or the article is commenting on a specific proprietary version of the drug.
Omit nonspecific openings such as "Studies of…"
Omit ambiguous terms such as "with." This can be replaced with specific terms such as "induced by" or "-mediated"
      e.g., Pulmonary changes in rats with bleomycin
can be revised to
      "Pulmonary changes induced by bleomycin" or "Bleomycin-mediated pulmonary changes in rats"
Avoid making the titles unnecessarily lengthy. Keep it concise.
      For example
      "Report on a case of specific developmental delay in an autistic child"
      can be written as
      "Specific Developmental Delay in Autism: A case report"  
Author Names and Corresponding Author Information
The order in which the authors are listed can be variable.
Often the order of the authors denotes their contribution to the study, i.e., the first author has made the largest contribution, and the remaining authors are listed in descending order of their contribution to the study.
Sometimes the senior author (responsible for overseeing the entire project— study and manuscript preparation) is listed last.
Another style, which is no longer very common, is to list the authors alphabetically.
In case of Japanese author names, some journals specify guidelines for formatting of author names (e.g., a comma should be placed between the author's surname and personal name).
Author Affiliations
The purpose of providing author affiliations is to indicate the institution(s) where the research was performed, and to provide readers with a way of contacting the authors.
There are two main ways to list affiliations. Please follow the one in sample papers of the target journal:
List each author name with his/her affiliation below the author name
For example, http://team.univ-paris1.fr/teamperso/DEA/Cursus/M1/Otsuka.pdf
List all authors in one line. Then list the main addresses of all the authors below the author names. Affiliations corresponding to the author names are denoted using superscript numbers/letters.
Cases in which superscripts need not be used to indicate correspondence
Single author papers
When all the authors are from the same affiliation
However, this depends on the journal guidelines as well.
For example, http://www.informaworld.com/smpp/content~content=a773185161~db=all
For any authors who have moved to a different institution between the time that the research was performed and the manuscript is published can also provide a current address. Note that if an author has moved since completing the research, it is inappropriate to list their current address as the main address.
Avoid abbreviating the name of institutions/organizations. That is, always provide a complete address. For example,
Avoid: Dept. of Biotech., NUO
Use: Department of Biotechnology, National University of Osaka
Corresponding Author Information
One author is always chosen as the "Corresponding Author." All correspondences from the journal will be directed to the corresponding author, who is then responsible for keeping the other authors updated with regard to the status of the manuscript.
The corresponding author's address is usually listed as a footnote to the list of authors. Along with the complete postal address, many journals require authors to include the phone number, a fax number, and email addresses.
In our next post , we discuss in detail the elements whose inclusion is subject to the journal guidelines.
Rate this article Cancel Reply
Your email address will not be published.
Enago Academy's Most Popular
Top 10 Tips on Choosing an Attractive Research Title
Choosing an appropriate research title is necessary to draw readers' attention. It instantly helps readers…
Manuscripts & Grants
Reporting Research
6 Important Tips on Writing a Research Paper Title
When you are searching for a research study on a particular topic, you probably notice…
Writing a Good Research Title: Things to Avoid
When writing manuscripts, too many scholars neglect the research title. This phrase, along with the…
Do Declarative Titles in Research Articles Yield Increased Readership?
The titles of journal articles fall under three basic categories: Declarative – states main findings…
Does Your Article Title Matter?
You probably spend a fair amount of time searching for relevant journal articles to read…
Sign-up to read more
Subscribe for free to get unrestricted access to all our resources on research writing and academic publishing including:
2000+ blog articles
50+ Webinars
10+ Expert podcasts
50+ Infographics
10+ Checklists
Research Guides
We hate spam too. We promise to protect your privacy and never spam you.
I am looking for Editing/ Proofreading services for my manuscript Tentative date of next journal submission:
For what are you most likely to depend on AI-assistance?
ORDER YOUR PAPER
15% off today
from a verified trusted writer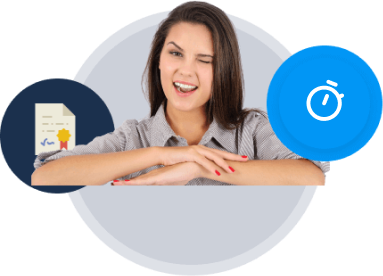 Features of the Title Page for a Research Paper
When students prepare research papers for a college or university, he pays the most attention to the introductory part, the main text, and the conclusion. It sounds a bit logical because such a written piece should contain information that is of scientific value. Therefore, you can use it as a foundation for further exploration. Often, students spend days choosing the optimal research format for writing an academic piece. You have to spend a lot of effort studying all possible sources of information and selecting the most relevant and important ones. However, in the whirlpool of scientific work, students sometimes forget about really important things that affect the final grade. The title page is one of the most important parts of academic writing. It is the "face" of your research project since it is the first thing every reader sees. And looking at this page, the audience decides whether it is worth reading this written work and analyzing the information. Finding the key to the reader's curiosity is not an easy task, so we offer our assistance. Let's learn more about the features of the cover page for a research paper, as well as the most common formatting options and requirements for each of them.
Title Page Formats and Features
If you compose a title page properly, it will help you to get a high grade and respect from your professor. You should reveal vital information in this part of your research paper, including:
an academic paper topic;
an institutional affiliation;
a due date.
This page shows the basis of the entire research paper. Moreover, the correct formatting allows the audience and readers to understand how thoroughly you came to the preparation for your academic task. In addition, people are inclined to judge every written piece by the cover, so it is more valuable to create a proper one!
Thus, we have moved to the main question - how to compose a cover page for a research paper correctly? First, there are two widespread formats for research papers in colleges and universities: APA and MLA. Many students consider them similar, but they have some unique and mandatory requirements for creating a title page. The choice of format to implement depends on the requests of your tutor, so it is much better to get more knowledge about all the structures.
APA Guidelines
Creating a first-class cover page for your academic assignment is not that complicated. However, you will definitely get a high grade if you follow our advice on how to do it properly. Thus, the APA format includes the following structure:
Personal information.
Page header.
Page number.
The title of your written piece has to be center-aligned, about in the middle of the page. You should write the full topic of your task here, so do your best to make it fascinating for readers. When considering the font choice, 12-point Times New Roman would be the best choice as a common academic recommendation. After that, you need to specify your personal information (full name, educational institution, and the due date to submit your research paper. All these details have to be written on the page footer and center-aligned. Further, your tutor may set some specific requirements, so we recommend asking for them first.
The page header is a vital element that should be used on each page of your research paper. You need to write a shortened your assignment's title and align it to the left. As for a page number, remember to separate it from the page header. The best place to set this critical component is the right side of the cover page.
APA Title Page Example You May Follow
Running head: EFFECTS OF POLLUTION IN ARCTICA (+ the page number on the right side of a page)
Title: Effects Of Pollution: An Arctic Environmental Study (center alignment)
Personal details (center alignment): Kate Bushnell
University of California Irvine
Dr. Brucknell
November 10, 2007
MLA Format Guidelines
If you are assigned to write a Human Science or Literature research paper, you will definitely use the MLA (Modern Language Association) format. In most cases, this option does not involve the traditional title page since you should indicate all vital information on the paper's first page. But your professor may sometimes ask you to create a separate page for your academic piece. Therefore, we offer you to follow our guidelines on composing a cover page that comply the MLA formatting requirements. Here are five crucial elements of the title page for a research paper:
The topic name.
Your full name.
Course or a class.
Instructor's name.
The due date.
And now, let's review some nuances for each of these elements.
You have to use the 12-point Times New Roman font for the whole research paper.
Write the paper's title one-third down the page. All words of the topic should be capitalized; the exception is suitable for some very short words and prepositions (e.g., and, an, of, for, etc.). Do not use punctuation marks unless you cite a particular reference. Plus, you have to italicize the title if it is an art piece name.
Skip 2-3 lines after the topic before specifying your full name.
If you need to write a course or class, make sure you have added a double space before it.
Remember to correctly indicate the instructor's name (according to the academic degree).
Use a European style to write the "due to" date on the Modern Language Association title page.
An Excellent MLA Research Paper Cover Page Sample
Title: Psychological Characteristics of Patients With Schizophrenia
Your name(double-spaced): Alessia Michelle
Your course\class(double-spaced): PSYCH 716
Instructor: Dr. Steve Clark
Deadline: June 1, 2021
So, MLA and APA cover page formatting is slightly different, despite some common things. Be careful when creating a title page for your academic essay, and you will be rewarded with a high grade. We hope you will follow our advice and wish you the best of luck!
Our TOP writers

Master's in Project Management, PMP, Six Sigma

1454 written pages
447 a+ papers
My Master's degree and comprehensive writing experience allow me to complete any order fast and hit the nail on the head every time.
MBA, PMP, ITIL

1683 written pages
392 a+ papers
I am experienced writer with an MBA, PMP, ITIL, that consistently delivers unique, quality papers. I take pride in my experience and quickness.
MS in Human Resource Management

15633 written pages
1738 orders
1634 a+ papers
I hold a MS degree in Human Resource and my goal is to help students with flawless, unique papers, delivered on time.
RN, MSN, PCN, PHN

5674 written pages
540 a+ papers
As Registered Nurse (RN, PCN), I can quickly deal with any medical paper. My expertise and writing skills are perfect for this job.
17869 written pages
1787 orders
1590 a+ papers
I have MPA, MHA degrees but, most importantly, experience and skills to provide unique, well-written papers on time.

DNP, BA, APN, PMHNP-BC

3822 written pages
416 a+ papers
I can write about multiple areas and countless topics, as I have a DNP and BA degrees. High-quality writing is my second name.
PhD in American History

9141 written pages
2286 orders
1989 a+ papers
A PhD in American history comes handy. Unique papers, any topics, swift delivery — helping with academic writing is my passion.
MA, PsyD, LMFT

1207 written pages
213 a+ papers
Incredibly fast PsyD writer. Efficient paper writing for college. Hundreds of different tasks finished. Satisfaction guaranteed.
MEd, NCC, LPC, LMFT

5535 written pages
744 a+ papers
Top-ranked writer with tons of experience. Ready to take on any task, and make it unique, as well as objectively good. Always ready!

MSW, LICSWA, DSW-C

1243 written pages
155 a+ papers
Experienced Social Work expert focused on good writing, total uniqueness, and customer satisfaction. My goal — to help YOU.
Have your tasks done by our professionals to get the best possible results.
NO Billing information is kept with us. You pay through secure and verified payment systems.
All papers we provide are of the highest quality with a well-researched material, proper format and citation style.
Our 24/7 Support team is available to assist you at any time. You also can communicate with your writer during the whole process.
You are the single owner of the completed order. We DO NOT resell any papers written by our expert
All orders are done from scratch following your instructions. Also, papers are reviewed for plagiarism and grammar mistakes.
You can check the quality of our work by looking at various paper examples in the Samples section on our website.
Having such a great service to rely on is amazing! Instead of spending sleepless nights on writing, I can enjoy the freedom and still get through the semester! I never worry cuz I know that your writers will revise the paper if needed.
I like how the writer communicated with me, clarified all the details and provided the paper I wanted. He was very loyal with me and my numerous requests for revision) You do what you advertise, high quality paper followed all my requirements!
High School $10.21 page 14 days
College $11.49 page 14 days
Undergraduate $12 page 14 days
Graduate $12.79 page 14 days
PhD $13.27 page 14 days
Free samples of our work
There are different types of essays: narrative, persuasive, compare\contrast, definition and many many others. They are written using a required citation style, where the most common are APA and MLA. We want to share some of the essays samples written on various topics using different citation styles.
Essay Writing
Term Paper Writing
Research Paper Writing
Coursework Writing
Case Study Writing
Article Writing
Article Critique
Annotated Bibliography Writing
Research Proposal
Thesis Proposal
Dissertation Writing
Admission / Application Essay
Editing and Proofreading
Multiple Choice Questions
Group Project
Lab Report Help
Statistics Project Help
Math Problems Help
Buy Term Paper
Term Paper Help
Case Study Help
Complete Coursework for Me
Dissertation Editing Services
Marketing Paper
Bestcustomwriting.com Coupons
Edit My Paper
Hire Essay Writers
Buy College Essay
Custom Essay Writing
Culture Essay
Argumentative Essay
Citation Styles
Cause and Effect Essay
5 Paragraph Essay
Paper Writing Service
Help Me Write An Essay
Write My Paper
Research Paper Help
Term Papers for Sale
Write My Research Paper
Homework Help
College Papers For Sale
Write My Thesis
Coursework Assistance
Custom Term Paper Writing
Buy An Article Critique
College Essay Help
Paper Writers Online
Write My Lab Report
Mathematics Paper
Write My Essay
Do My Homework
Buy a PowerPoint Presentation
Buy a Thesis Paper
Buy an Essay
Comparison Essay
Buy Discussion Post
Buy Assignment
Deductive Essay
Exploratory Essay
Literature Essay
Narrative Essay
Opinion Essay
Take My Online Class
Reflective Essay
Response Essay
Custom Papers
Dissertation Help
Buy Research Paper
Criminal Law And Justice Essay
Political Science Essay
Pay for Papers
College Paper Help
How to Write a College Essay
High School Writing
Personal Statement Help
Book Report
Report Writing
Cheap Coursework Help
Literary Research Paper
Essay Assistance
Academic Writing Services
Coursework Help
Thesis Papers for Sale
Coursework Writing Service UK
I have read and agree to the Terms of Use , Money Back Guarantee , Privacy and Cookie Policy of BestCustomWriting.com
Use your opportunity to get a discount!
To get your special discount, write your email below
Best papers and best prices !
Want to get quality paper done on time cheaper?
Home / Guides / Writing Guides / Parts of a Paper / How to Write an Essay Cover Page
How to Write an Essay Cover Page
What you include in your cover page depends slightly on which citation style you are using, but the rules are generally the same.
Guide Overview
APA cover pages
MLA cover pages
For APA cover pages:
Include the title of the paper, running head, the author's name, institutional affiliation, and an author's note.
Here is an example of a cover page in APA: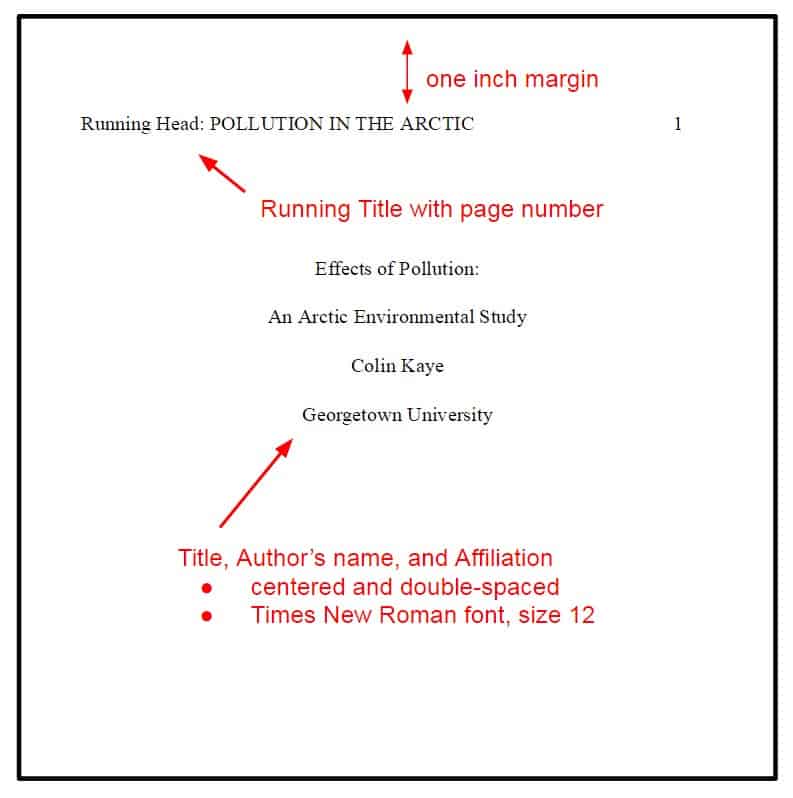 For MLA cover pages:
Cover pages are not as frequently used in MLA format, as the inclusion of headers is preferred.
A header looks like this: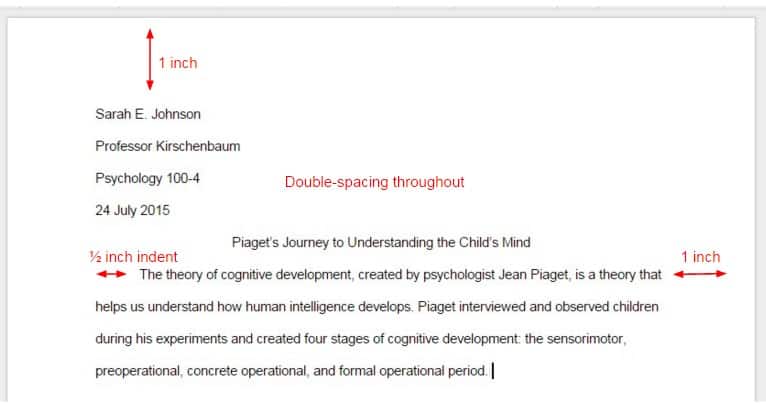 Cover pages can include the name of your school, your paper title, your name, your course name, your teacher or professor's name, and the due date of the paper. If you are unsure of what to include, check with your instructor.
Here is an example of a cover page in MLA format: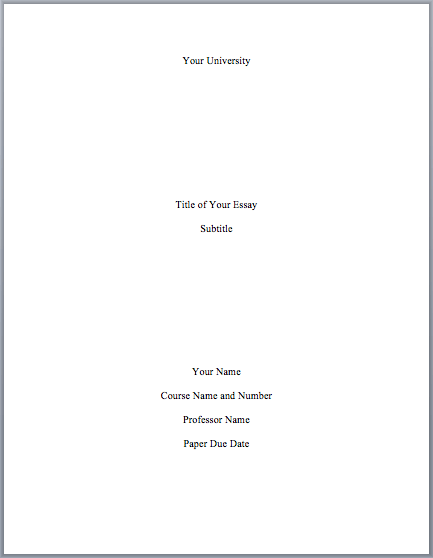 For more help making cover or title pages, visit our title page generator   here.
EasyBib Writing Resources
Writing a paper.
Academic Essay
Argumentative Essay
College Admissions Essay
Expository Essay
Persuasive Essay
Research Paper
Thesis Statement
Writing a Conclusion
Writing an Introduction
Writing an Outline
Writing a Summary
EasyBib Plus Features
Citation Generator
Essay Checker
Expert Check Proofreader
Grammar Checker
Paraphrasing Tools
Plagiarism Checker
How useful was this post?
Click on a star to rate it!
We are sorry that this post was not useful for you!
Let us improve this post!
Tell us how we can improve this post?
Grammar and Plagiarism Checkers
Grammar Basics
Plagiarism Basics
Writing Basics
Upload a paper to check for plagiarism against billions of sources and get advanced writing suggestions for clarity and style.
Get Started

The Plagiarism Checker Online For Your Academic Work
Start Plagiarism Check
Editing & Proofreading for Your Research Paper
Get it proofread now
Online Printing & Binding with Free Express Delivery
Configure binding now
Academic essay
Academic writing
APA examples
Bachelor degree
Chicago style
Citing sources
College essay
Dissertation
Graduate school
Harvard referencing
Language rules
Master degree
Methodology
Printing production
Research paper
Research process
Working with sources
Your Step to Success
Printing & Binding with 3D Live Preview
Title Page – Definition, Formats & Examples
How do you like this article.
Inhaltsverzeichnis
1 Definition: Title Page
3  Formats & Examples
4 Tips for a Good Title Page
5 In a Nutshell
Definition: Title Page
In its simplest form, a title page is something that gets put at the very start of an academic essay or paper. It is designed to be an indicator of the basic points of your project. The main components of any title page include your own name, the title of your essay and the name of the school, college or university in which you have written and are submitting the paper.
In the world of advanced academia, there are plenty of assignment requirements that a student needs to adhere to in order to get the best marks possible. It might not seem like it, but one of the most important of these smaller requirements is mastering the art of the title page.
What is a Title Page?
Put simply, a title page is placed at the very front of an academic dissertation or thesis. Generally, a title page will contain all of the important information about your writing including the name of the project, the name of the author and the name of the institution that you are  writing the paper with. There are different ways of formatting the title page depending on the institution.
Do you need a Title Page?
In many cases at college and university level, you are going to be required to use a title page for all your extensive academic writing assignments. Tutors, professors and other staff members that evaluate your projects usually like to see a clear indication of the purpose and topic at the very beginning of your paper. It's important that the thesis title displayed on the title page, represents your thesis statement and the contents of your paper.
What is the difference between a Title Page and a Cover Page?
A title page is the page that comes right at the very beginning of your paper, a page that only has the bare essentials like title, author's name and institution name on it. A cover page , however, is something that often comes after the title page. It is an opportunity for the essay writer to pen a brief description of what the project is actually about and what it intends to explore.
Which page comes first?
A title page should always come before a cover page . This can easily be remembered with the solid rule that a title page should be the very first thing that is seen when you put together your essay pages. Be sure to check with your institution which formatting you're required to use, as this will determine the margins and text size.
Is it easy to create a Title Page?
As long as you follow the guidelines that are attached to the style of essay or thesis format that your school or institution dictates, you shouldn't have any trouble. Once you know the rules, creating a title page is the simplest part of your entire paper writing process.
 Formats & Examples
Something to keep in mind when getting started on a title page is that there is more than one kind. There are three main formats in circulation when it comes to title pages, and the one that you are required to use is dictated by the specific essay writing format that your chosen institution prefers. Here is some information about title page requirements of the three main writing formats in modern academia.
APA Title Page
An APA Title Page should include:
– A running head.
– The first page number.
– The title of the paper, which should not exceed more than twelve words in length or contain any abbreviations.
– Your name as the author.
– The name of your academic institution.
MLA Title Page
A MLA Title Page should include:
– The title of your paper.
– Your name.
– Name of the class or course that the paper is for.
– Name of your professor.
– Date of your paper submission.
Latex Title Page
A Latex format title page should include:
– Any subtitle that you might also use.
– A line to explain which thesis or doctorate this paper is being submitted for.
– The graphic logo of your academic institution.
– Followed by department name, university name, country and date.
Tips for a Good Title Page
A few extra tips for creating the best title page possible include:
Don't be too wordy on your title page. Keep your front page information to a bare minimum with only the essentials being listed.
Make sure to double check with your professors and with the guidelines of your specific format that you are abiding by the line spacing rules. Some formats like double spaced, some formats like 1.5 spaced. It is important to make sure that you get all of these small details correct along with the appropriate wording.
Don't be tempted to capitalise words that don't need to be capitalised. There is a tendency to put a capital letter in all words of a title page, but this isn't necessary and is seen as bad grammar by the marker.
Don't treat the title page as simply an afterthought. Make the effort to print it on the same kind of paper, use the same font as the rest of your essay and use the same sized lettering as you have used in throughout your project.
Thesis Printing & Binding
You are already done writing your thesis and need a high quality printing & binding service? Then you are right to choose BachelorPrint! Check out our 24-hour online printing service. For more information click the button below :
In a Nutshell
Ultimately, you will be able to produce a perfect title page if you just follow these simple, nutshell instructions:
Pay close attention to which of the three main formats your university is using and make the effort to abide by those rules specifically.
Take the time to make sure that every single word on the title page is spelt correctly and placed correctly according to the structure and template.
Pay close attention to the order in which you are required to place your lines on the page. It can vary from format to format and whilst it might not seem like a vital component compared to the content of your essay, it can lose your marks in the final grading.
As long as you stick to the strict guidelines and treat your title page in the same meticulous way that you would treat a bibliography or contents page, you should have no trouble at all with meeting the standard.
Discover more Useful Articles:
This article includes information about the cover page and its kinds:
What is important for your table of contents? We will tell you:
We tell you whats important while writing you conclusion:
Information about an acknowledgement for thesis:
We use cookies on our website. Some of them are essential, while others help us to improve this website and your experience.
Individual Privacy Preferences
Cookie Details Privacy Policy Imprint
Here you will find an overview of all cookies used. You can give your consent to whole categories or display further information and select certain cookies.
Accept all Save
Essential cookies enable basic functions and are necessary for the proper function of the website.
Show Cookie Information Hide Cookie Information
Statistics cookies collect information anonymously. This information helps us to understand how our visitors use our website.
Marketing cookies are used by third-party advertisers or publishers to display personalized ads. They do this by tracking visitors across websites.
Content from video platforms and social media platforms is blocked by default. If External Media cookies are accepted, access to those contents no longer requires manual consent.
Privacy Policy Imprint
How to Make a Title Page for a Research Paper?
That feeling when you just finished your perfect research paper and finally able to sigh with a relief…but anyways, one thing is left – a title page. It's also an important thing that needs an attention. It's not going to take too much time, but it can make your future grade lower and your papers look dry and unfinished. It's not that difficult but you must consider all the features of the style that your professor required. Our little article will explain to you how to make a perfect title page for research paper in the APA, MLA styles.
Making Title in APA Style
Most important.
Your entire paper should be double-spaced, and this part of your work is not an exception, your heading and name should be with double line spacing or one empty line.
Set the 12-pt using Times New Roman font and check your margins, they should be set at 1 inch.
The heading should be downed about 1/3 of the way down the page, use the return key to move it and you can also place it on two lines if it's too long. You have to be precise, so don't use abbreviations and extra words. Capitalize on all the important words.
It should be placed under the title, just press the return key again once and type out your name. Make sure you used your full name (including middle initials) but don't use titles, if you have someone who's doing this paper with you then include her/his name separating your colleague's name and yours.
Place where you study
You must indicate the name of your university/college/school. Also, if you have someone who prepared this paper in a cooperation with you, but you are in the same university, just write the university name after your names. What if this person is not from the same institution? If this person is from another university then separate your names indicating university names for each.
Centering your heading horizontally
Highlight your text and tap the button at the top of the page to center the text and note that it has to be centered.
Running header
Set it on the first page all in capital letters, so, on the first page, it will be looking like "Running head: KEY HEADING WORDS". It's not the title, it's just a few keywords. You will want to add the running page numbers here to the upper right-hand corner. Don't use "p." or "pg.", just set the numbers.
Alternatively to all above you can buy research papers in APA formatting to not mess up with formats or if you simply does not to want to make it.
Styling Title In MLA Pattern
Include this part only if it's required by your professor or teacher. MLA format doesn't require using it. However, if your professor required to include this section in your work, use these hints:
Indicate your name, your teacher's name, university, date, and course, make sure you double-space your heading and all information indicated in the upper left-hand corner because on the right-hand corner, you will have a running header with your last name and page number.
Here again, you will need to start from about 1/3 of the way down the page and you will have to capitalize only the important words of your title.
Place your name under the title and, again, if there are two or more people who worked on the page separate your names by using "and".
The bottom line should be a little bit above the margin, so, write your class name and section/course on the top line, indicate your professor's name below that, and write the date under that all.
Center the text as for the APA style , highlight it and press the button "center the text" (Ctrl+E).
Format your paper appropriately – you have to use the 12-pt Times New Roman font and do not forget to set all margins to 1 inch.
Though it seems hard, making your research paper title page will take less than ten minutes if you understand how to do it. We hope that our guide helped you out with making the title for writing your research paper.
You May Also Be Interested In
Why are students often so concerned about citation styles? The main problem is the wide…
The research paper is a difficult work because it should contain a new look at…
The Function of the Transition Words Many things distinguish an average paper from a great one. Achieving greatness…
The conclusion is a brief retelling of all your work. It's something like the introduction,…
Always Ready to Help
Running out of time.
Type to search

UNITED STATES
台灣 (TAIWAN)
TÜRKIYE (TURKEY)
Academic Editing Services
- Research Paper
- Journal Manuscript
- Dissertation
- College & University Assignments
Admissions Editing Services
- Application Essay
- Personal Statement
- Recommendation Letter
- Cover Letter
- CV/Resume
Business Editing Services
- Business Documents
- Report & Brochure
- Website & Blog
Writer Editing Services
Our Editors
Client reviews.
Editing & Proofreading Prices
Wordvice Points
Partner Discount
Plagiarism Checker
APA Citation Generator
MLA Citation Generator
Chicago Citation Generator
Vancouver Citation Generator
- APA Style
- MLA Style
- Chicago Style
- Vancouver Style
Writing & Editing Guide
Academic Resources
Admissions Resources
How to Write a Research Paper Title with Examples
What is a research paper title and why does it matter?
Making a title for your research is one of the most important decisions when writing an article to publish in journals. The research title is the first thing that journal editors and reviewers see when they look at your paper and the only piece of information that fellow researchers will see in a database or search engine query. Good titles that are concise and contain all the relevant terms have been shown to increase citation counts and Altmetric scores .
Therefore, when you title research work, make sure it captures all of the relevant aspects of your study, including the specific topic and problem being investigated. It also should present these elements in a way that is accessible and will captivate readers. Follow these steps to learn how to make a good research title for your work.
How to Write a Research Paper Title in 5 Steps
You might wonder how you are supposed to pick a title from all the content that your manuscript contains—how are you supposed to choose? What will make your research paper title come up in search engines and what will make the people in your field read it?
In a nutshell, your research title should accurately capture what you have done, it should sound interesting to the people who work on the same or a similar topic, and it should contain the important title keywords that other researchers use when looking for literature in databases. To make the title writing process as simple as possible, we have broken it down into 5 simple steps.
Step 1: Answer some key questions about your research paper
What does your paper seek to answer and what does it accomplish? Try to answer these questions as briefly as possible. You can create these questions by going through each section of your paper and finding the MOST relevant information to make a research title.
Step 2: Identify research study keywords
Now that you have answers to your research questions, find the most important parts of these responses and make these your study keywords. Note that you should only choose the most important terms for your keywords–journals usually request anywhere from 3 to 8 keywords maximum.
Step 3: Research title writing: use these keywords
"We employed a case study of 60 liver transplant patients around the US aged 20-50 years to assess how waiting list volume affects the outcomes of liver transplantation in patients; results indicate a positive correlation between increased waiting list volume and negative prognosis after the transplant procedure."
The sentence above is clearly much too long for a research paper title. This is why you will trim and polish your title in the next two steps.
Step 4: Create a working research paper title
To create a working title, remove elements that make it a complete "sentence" but keep everything that is important to what the study is about. Delete all unnecessary and redundant words that are not central to the study or that researchers would most likely not use in a database search.
" We employed a case study of 60 liver transplant patients around the US aged 20-50 years to assess how the waiting list volume affects the outcome of liver transplantation in patients ; results indicate a positive correlation between increased waiting list volume and a negative prognosis after transplant procedure "
Now shift some words around for proper syntax and rephrase it a bit to shorten the length and make it leaner and more natural. What you are left with is:
"A case study of 60 liver transplant patients around the US aged 20-50 years assessing the impact of waiting list volume on outcome of transplantation and showing a positive correlation between increased waiting list volume and a negative prognosis" (Word Count: 38)
This text is getting closer to what we want in a research title, which is just the most important information. But note that the word count for this working title is still 38 words, whereas the average length of published journal article titles is 16 words or fewer. Therefore, we should eliminate some words and phrases that are not essential to this title.
Step 5: Remove any nonessential words and phrases from your title
Because the number of patients studied and the exact outcome are not the most essential parts of this paper, remove these elements first:
"A case study of 60 liver transplant patients around the US aged 20-50 years assessing the impact of waiting list volume on outcomes of transplantation and showing a positive correlation between increased waiting list volume and a negative prognosis" (Word Count: 19)
In addition, the methods used in a study are not usually the most searched-for keywords in databases and represent additional details that you may want to remove to make your title leaner. So what is left is:
"Assessing the impact of waiting list volume on outcome and prognosis in liver transplantation patients" (Word Count: 15)
In this final version of the title, one can immediately recognize the subject and what objectives the study aims to achieve. Note that the most important terms appear at the beginning and end of the title: "Assessing," which is the main action of the study, is placed at the beginning; and "liver transplantation patients," the specific subject of the study, is placed at the end.
This will aid significantly in your research paper title being found in search engines and database queries, which means that a lot more researchers will be able to locate your article once it is published. In fact, a 2014 review of more than 150,000 papers submitted to the UK's Research Excellence Framework (REF) database found the style of a paper's title impacted the number of citations it would typically receive. In most disciplines, articles with shorter, more concise titles yielded more citations.
Adding a Research Paper Subtitle
If your title might require a subtitle to provide more immediate details about your methodology or sample, you can do this by adding this information after a colon:
" : a case study of US adult patients ages 20-25"
If we abide strictly by our word count rule this may not be necessary or recommended. But every journal has its own standard formatting and style guidelines for research paper titles, so it is a good idea to be aware of the specific journal author instructions , not just when you write the manuscript but also to decide how to create a good title for it.
Research Paper Title Examples
The title examples in the following table illustrate how a title can be interesting but incomplete, complete by uninteresting, complete and interesting but too informal in tone, or some other combination of these. A good research paper title should meet all the requirements in the four columns below.
Tips on Formulating a Good Research Paper Title
In addition to the steps given above, there are a few other important things you want to keep in mind when it comes to how to write a research paper title, regarding formatting, word count, and content:
Write the title after you've written your paper and abstract
Include all of the essential terms in your paper
Keep it short and to the point (~16 words or fewer)
Avoid unnecessary jargon and abbreviations
Use keywords that capture the content of your paper
Never include a period at the end—your title is NOT a sentence
Research Paper Writing Resources
We hope this article has been helpful in teaching you how to craft your research paper title. But you might still want to dig deeper into different journal title formats and categories that might be more suitable for specific article types or need help with writing a cover letter for your manuscript submission.
In addition to getting English proofreading services , including paper editing services , before submission to journals, be sure to visit our academic resources papers. Here you can find dozens of articles on manuscript writing, from drafting an outline to finding a target journal to submit to.

Want to create or adapt books like this? Learn more about how Pressbooks supports open publishing practices.
13.1 Formatting a Research Paper
Learning objectives.
Identify the major components of a research paper written using American Psychological Association (APA) style.
Apply general APA style and formatting conventions in a research paper.
In this chapter, you will learn how to use APA style , the documentation and formatting style followed by the American Psychological Association, as well as MLA style , from the Modern Language Association. There are a few major formatting styles used in academic texts, including AMA, Chicago, and Turabian:
AMA (American Medical Association) for medicine, health, and biological sciences
APA (American Psychological Association) for education, psychology, and the social sciences
Chicago—a common style used in everyday publications like magazines, newspapers, and books
MLA (Modern Language Association) for English, literature, arts, and humanities
Turabian—another common style designed for its universal application across all subjects and disciplines
While all the formatting and citation styles have their own use and applications, in this chapter we focus our attention on the two styles you are most likely to use in your academic studies: APA and MLA.
If you find that the rules of proper source documentation are difficult to keep straight, you are not alone. Writing a good research paper is, in and of itself, a major intellectual challenge. Having to follow detailed citation and formatting guidelines as well may seem like just one more task to add to an already-too-long list of requirements.
Following these guidelines, however, serves several important purposes. First, it signals to your readers that your paper should be taken seriously as a student's contribution to a given academic or professional field; it is the literary equivalent of wearing a tailored suit to a job interview. Second, it shows that you respect other people's work enough to give them proper credit for it. Finally, it helps your reader find additional materials if he or she wishes to learn more about your topic.
Furthermore, producing a letter-perfect APA-style paper need not be burdensome. Yes, it requires careful attention to detail. However, you can simplify the process if you keep these broad guidelines in mind:
Work ahead whenever you can. Chapter 11 "Writing from Research: What Will I Learn?" includes tips for keeping track of your sources early in the research process, which will save time later on.
Get it right the first time. Apply APA guidelines as you write, so you will not have much to correct during the editing stage. Again, putting in a little extra time early on can save time later.
Use the resources available to you. In addition to the guidelines provided in this chapter, you may wish to consult the APA website at http://www.apa.org or the Purdue University Online Writing lab at http://owl.english.purdue.edu , which regularly updates its online style guidelines.
General Formatting Guidelines
This chapter provides detailed guidelines for using the citation and formatting conventions developed by the American Psychological Association, or APA. Writers in disciplines as diverse as astrophysics, biology, psychology, and education follow APA style. The major components of a paper written in APA style are listed in the following box.
These are the major components of an APA-style paper:
Body, which includes the following:
Headings and, if necessary, subheadings to organize the content
In-text citations of research sources
References page
All these components must be saved in one document, not as separate documents.
The title page of your paper includes the following information:
Title of the paper
Author's name
Name of the institution with which the author is affiliated
Header at the top of the page with the paper title (in capital letters) and the page number (If the title is lengthy, you may use a shortened form of it in the header.)
List the first three elements in the order given in the previous list, centered about one third of the way down from the top of the page. Use the headers and footers tool of your word-processing program to add the header, with the title text at the left and the page number in the upper-right corner. Your title page should look like the following example.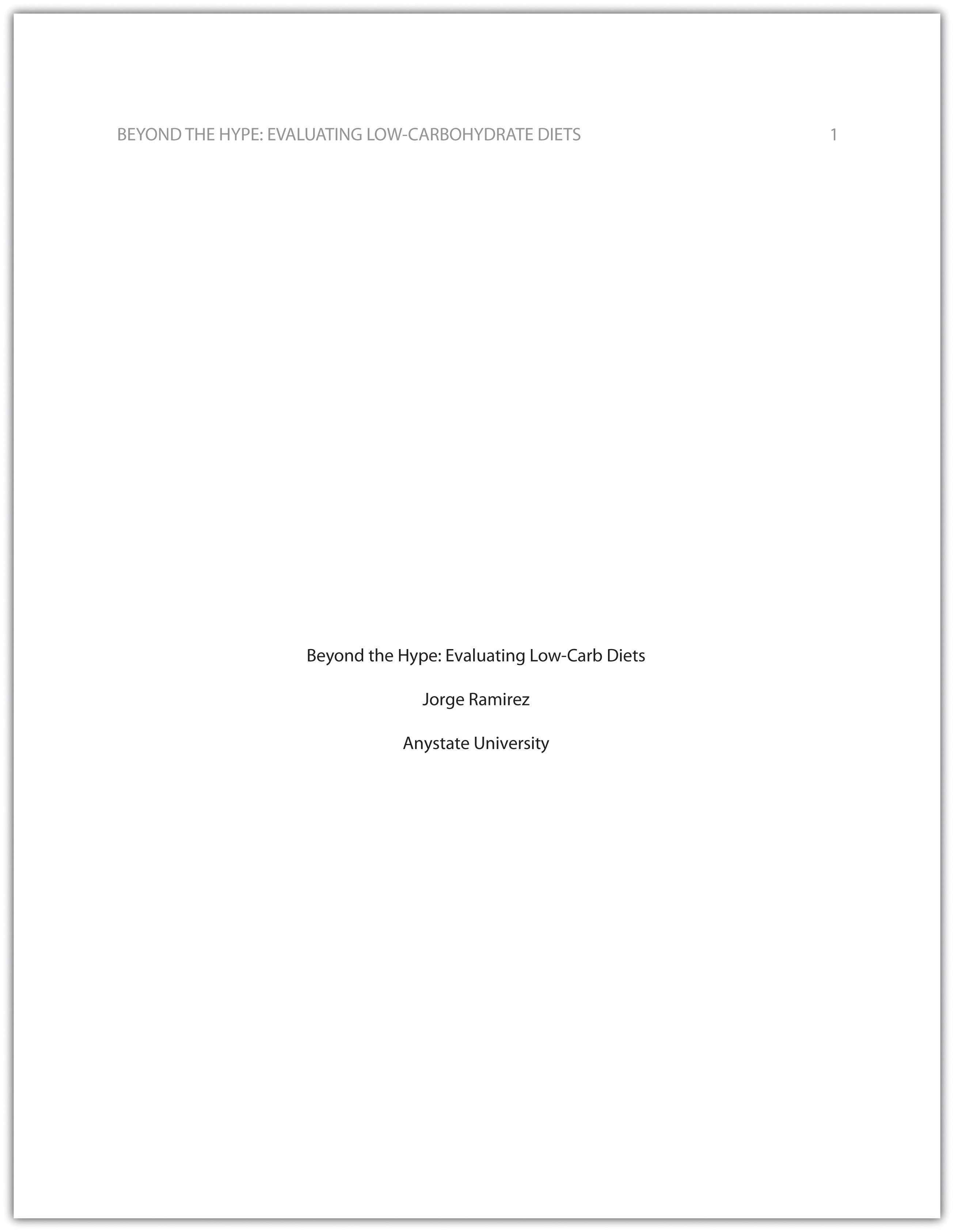 The next page of your paper provides an abstract , or brief summary of your findings. An abstract does not need to be provided in every paper, but an abstract should be used in papers that include a hypothesis. A good abstract is concise—about one hundred fifty to two hundred fifty words—and is written in an objective, impersonal style. Your writing voice will not be as apparent here as in the body of your paper. When writing the abstract, take a just-the-facts approach, and summarize your research question and your findings in a few sentences.
In Chapter 12 "Writing a Research Paper" , you read a paper written by a student named Jorge, who researched the effectiveness of low-carbohydrate diets. Read Jorge's abstract. Note how it sums up the major ideas in his paper without going into excessive detail.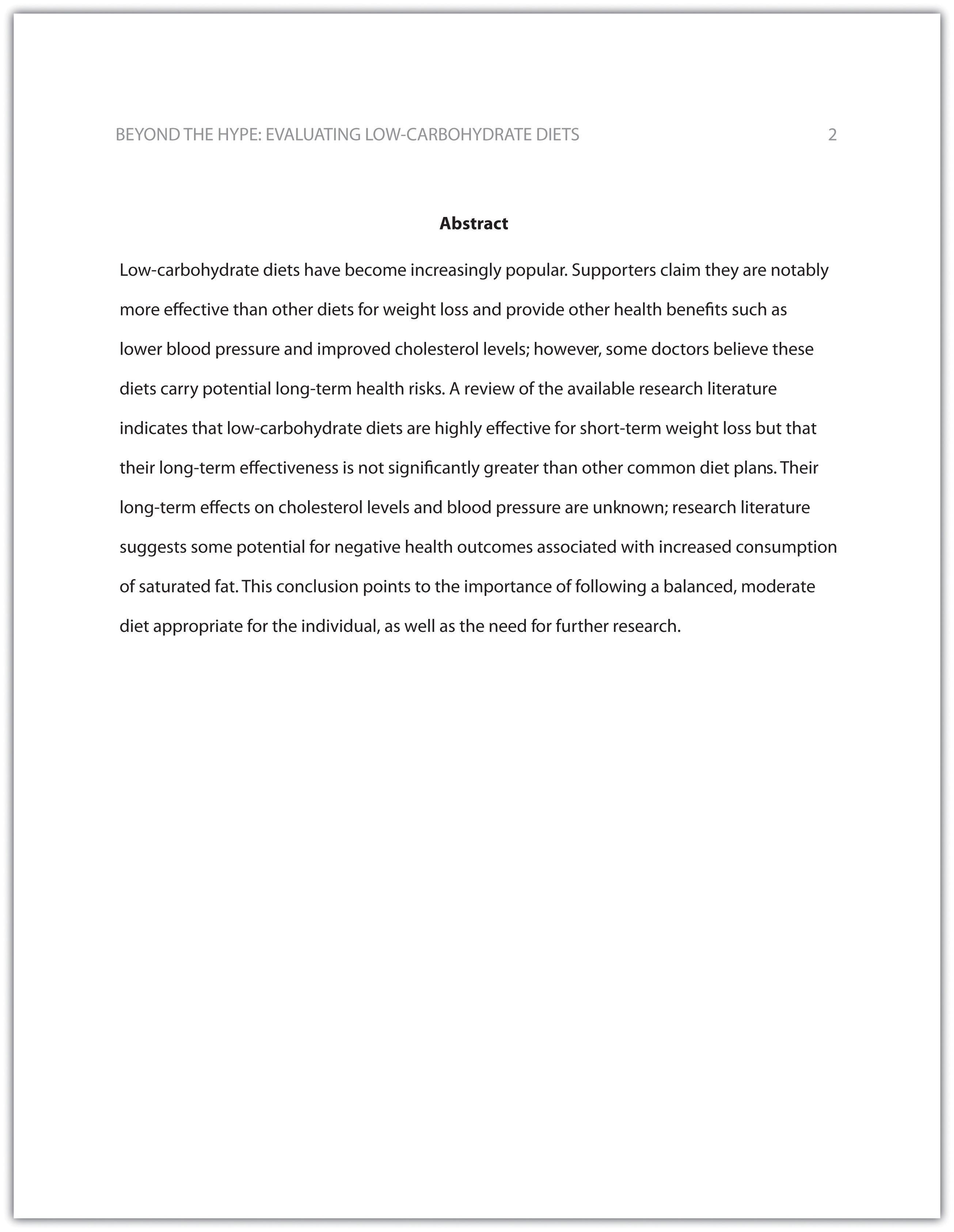 Write an abstract summarizing your paper. Briefly introduce the topic, state your findings, and sum up what conclusions you can draw from your research. Use the word count feature of your word-processing program to make sure your abstract does not exceed one hundred fifty words.
Depending on your field of study, you may sometimes write research papers that present extensive primary research, such as your own experiment or survey. In your abstract, summarize your research question and your findings, and briefly indicate how your study relates to prior research in the field.
Margins, Pagination, and Headings
APA style requirements also address specific formatting concerns, such as margins, pagination, and heading styles, within the body of the paper. Review the following APA guidelines.
Use these general guidelines to format the paper:
Set the top, bottom, and side margins of your paper at 1 inch.
Use double-spaced text throughout your paper.
Use a standard font, such as Times New Roman or Arial, in a legible size (10- to 12-point).
Use continuous pagination throughout the paper, including the title page and the references section. Page numbers appear flush right within your header.
Section headings and subsection headings within the body of your paper use different types of formatting depending on the level of information you are presenting. Additional details from Jorge's paper are provided.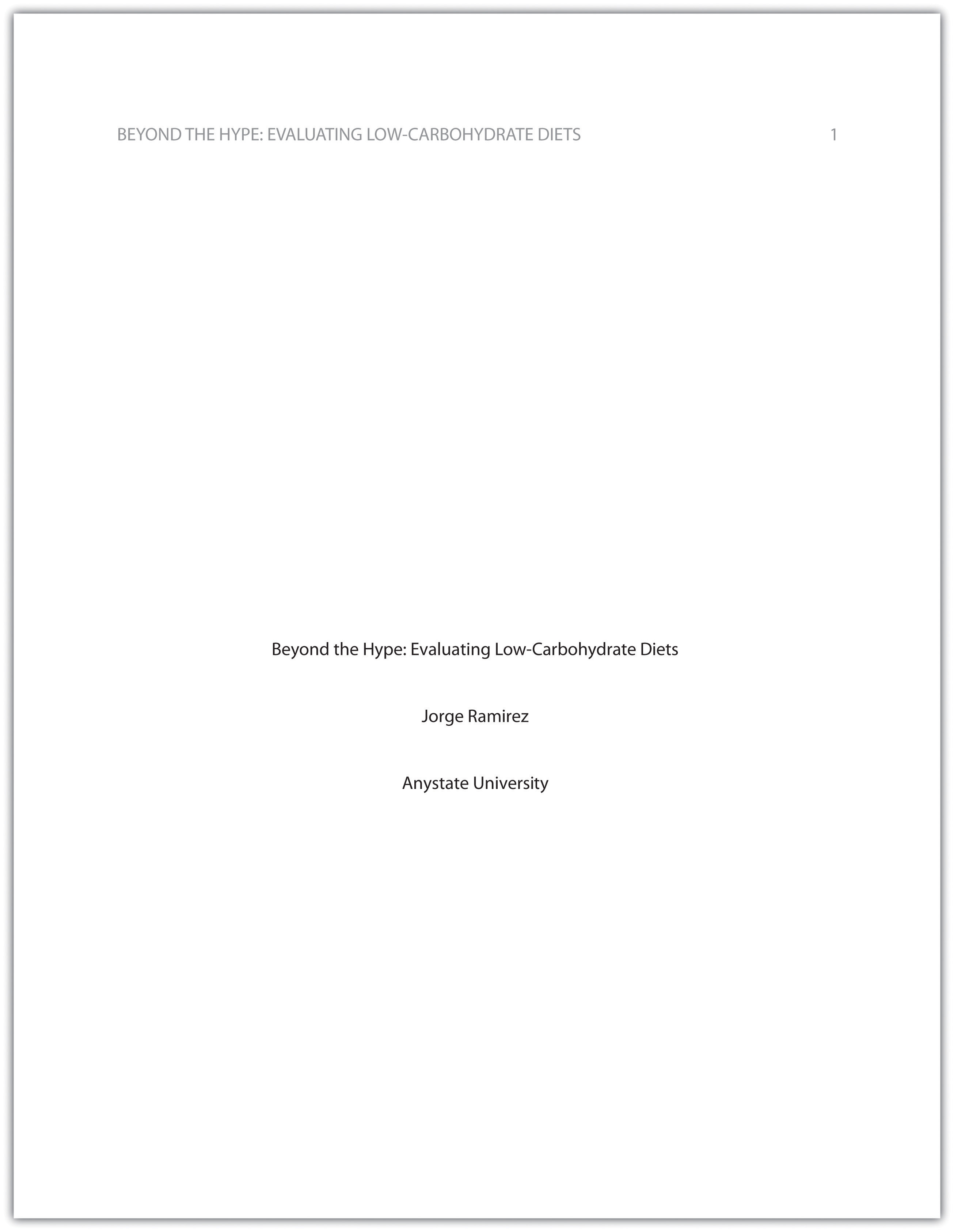 Begin formatting the final draft of your paper according to APA guidelines. You may work with an existing document or set up a new document if you choose. Include the following:
Your title page
The abstract you created in Note 13.8 "Exercise 1"
Correct headers and page numbers for your title page and abstract
APA style uses section headings to organize information, making it easy for the reader to follow the writer's train of thought and to know immediately what major topics are covered. Depending on the length and complexity of the paper, its major sections may also be divided into subsections, sub-subsections, and so on. These smaller sections, in turn, use different heading styles to indicate different levels of information. In essence, you are using headings to create a hierarchy of information.
The following heading styles used in APA formatting are listed in order of greatest to least importance:
Section headings use centered, boldface type. Headings use title case, with important words in the heading capitalized.
Subsection headings use left-aligned, boldface type. Headings use title case.
The third level uses left-aligned, indented, boldface type. Headings use a capital letter only for the first word, and they end in a period.
The fourth level follows the same style used for the previous level, but the headings are boldfaced and italicized.
The fifth level follows the same style used for the previous level, but the headings are italicized and not boldfaced.
Visually, the hierarchy of information is organized as indicated in Table 13.1 "Section Headings" .
Table 13.1 Section Headings
A college research paper may not use all the heading levels shown in Table 13.1 "Section Headings" , but you are likely to encounter them in academic journal articles that use APA style. For a brief paper, you may find that level 1 headings suffice. Longer or more complex papers may need level 2 headings or other lower-level headings to organize information clearly. Use your outline to craft your major section headings and determine whether any subtopics are substantial enough to require additional levels of headings.
Working with the document you developed in Note 13.11 "Exercise 2" , begin setting up the heading structure of the final draft of your research paper according to APA guidelines. Include your title and at least two to three major section headings, and follow the formatting guidelines provided above. If your major sections should be broken into subsections, add those headings as well. Use your outline to help you.
Because Jorge used only level 1 headings, his Exercise 3 would look like the following:
Citation Guidelines
In-text citations.
Throughout the body of your paper, include a citation whenever you quote or paraphrase material from your research sources. As you learned in Chapter 11 "Writing from Research: What Will I Learn?" , the purpose of citations is twofold: to give credit to others for their ideas and to allow your reader to follow up and learn more about the topic if desired. Your in-text citations provide basic information about your source; each source you cite will have a longer entry in the references section that provides more detailed information.
In-text citations must provide the name of the author or authors and the year the source was published. (When a given source does not list an individual author, you may provide the source title or the name of the organization that published the material instead.) When directly quoting a source, it is also required that you include the page number where the quote appears in your citation.
This information may be included within the sentence or in a parenthetical reference at the end of the sentence, as in these examples.
Epstein (2010) points out that "junk food cannot be considered addictive in the same way that we think of psychoactive drugs as addictive" (p. 137).
Here, the writer names the source author when introducing the quote and provides the publication date in parentheses after the author's name. The page number appears in parentheses after the closing quotation marks and before the period that ends the sentence.
Addiction researchers caution that "junk food cannot be considered addictive in the same way that we think of psychoactive drugs as addictive" (Epstein, 2010, p. 137).
Here, the writer provides a parenthetical citation at the end of the sentence that includes the author's name, the year of publication, and the page number separated by commas. Again, the parenthetical citation is placed after the closing quotation marks and before the period at the end of the sentence.
As noted in the book Junk Food, Junk Science (Epstein, 2010, p. 137), "junk food cannot be considered addictive in the same way that we think of psychoactive drugs as addictive."
Here, the writer chose to mention the source title in the sentence (an optional piece of information to include) and followed the title with a parenthetical citation. Note that the parenthetical citation is placed before the comma that signals the end of the introductory phrase.
David Epstein's book Junk Food, Junk Science (2010) pointed out that "junk food cannot be considered addictive in the same way that we think of psychoactive drugs as addictive" (p. 137).
Another variation is to introduce the author and the source title in your sentence and include the publication date and page number in parentheses within the sentence or at the end of the sentence. As long as you have included the essential information, you can choose the option that works best for that particular sentence and source.
Citing a book with a single author is usually a straightforward task. Of course, your research may require that you cite many other types of sources, such as books or articles with more than one author or sources with no individual author listed. You may also need to cite sources available in both print and online and nonprint sources, such as websites and personal interviews. Chapter 13 "APA and MLA Documentation and Formatting" , Section 13.2 "Citing and Referencing Techniques" and Section 13.3 "Creating a References Section" provide extensive guidelines for citing a variety of source types.
Writing at Work
APA is just one of several different styles with its own guidelines for documentation, formatting, and language usage. Depending on your field of interest, you may be exposed to additional styles, such as the following:
MLA style. Determined by the Modern Languages Association and used for papers in literature, languages, and other disciplines in the humanities.
Chicago style. Outlined in the Chicago Manual of Style and sometimes used for papers in the humanities and the sciences; many professional organizations use this style for publications as well.
Associated Press (AP) style. Used by professional journalists.
References List
The brief citations included in the body of your paper correspond to the more detailed citations provided at the end of the paper in the references section. In-text citations provide basic information—the author's name, the publication date, and the page number if necessary—while the references section provides more extensive bibliographical information. Again, this information allows your reader to follow up on the sources you cited and do additional reading about the topic if desired.
The specific format of entries in the list of references varies slightly for different source types, but the entries generally include the following information:
The name(s) of the author(s) or institution that wrote the source
The year of publication and, where applicable, the exact date of publication
The full title of the source
For books, the city of publication
For articles or essays, the name of the periodical or book in which the article or essay appears
For magazine and journal articles, the volume number, issue number, and pages where the article appears
For sources on the web, the URL where the source is located
The references page is double spaced and lists entries in alphabetical order by the author's last name. If an entry continues for more than one line, the second line and each subsequent line are indented five spaces. Review the following example. ( Chapter 13 "APA and MLA Documentation and Formatting" , Section 13.3 "Creating a References Section" provides extensive guidelines for formatting reference entries for different types of sources.)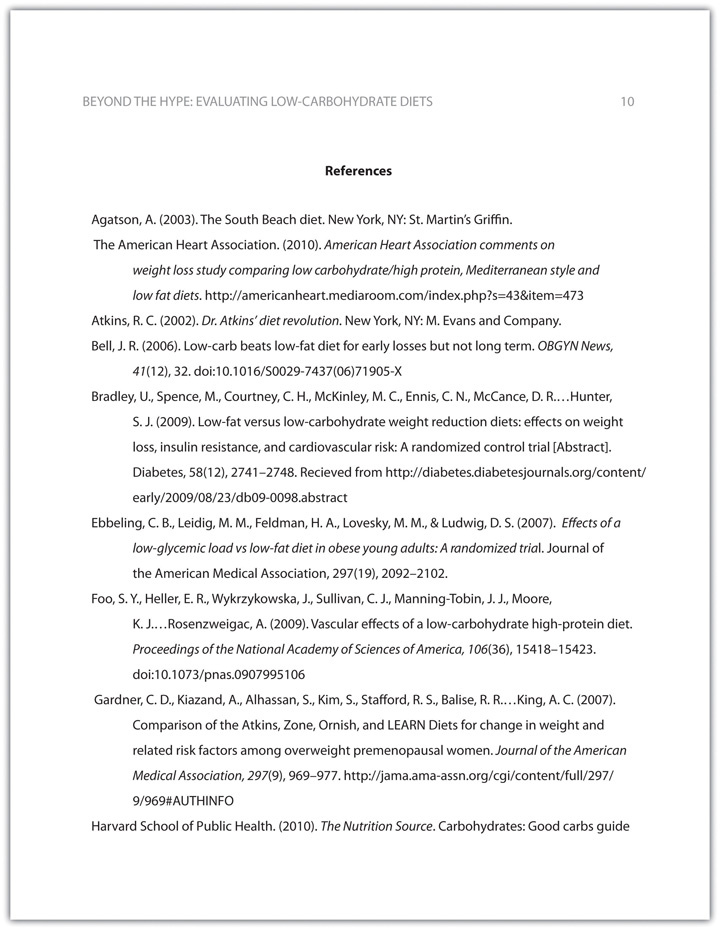 In APA style, book and article titles are formatted in sentence case, not title case. Sentence case means that only the first word is capitalized, along with any proper nouns.
Key Takeaways
Following proper citation and formatting guidelines helps writers ensure that their work will be taken seriously, give proper credit to other authors for their work, and provide valuable information to readers.
Working ahead and taking care to cite sources correctly the first time are ways writers can save time during the editing stage of writing a research paper.
APA papers usually include an abstract that concisely summarizes the paper.
APA papers use a specific headings structure to provide a clear hierarchy of information.
In APA papers, in-text citations usually include the name(s) of the author(s) and the year of publication.
In-text citations correspond to entries in the references section, which provide detailed bibliographical information about a source.
Writing for Success by University of Minnesota is licensed under a Creative Commons Attribution-NonCommercial-ShareAlike 4.0 International License , except where otherwise noted.